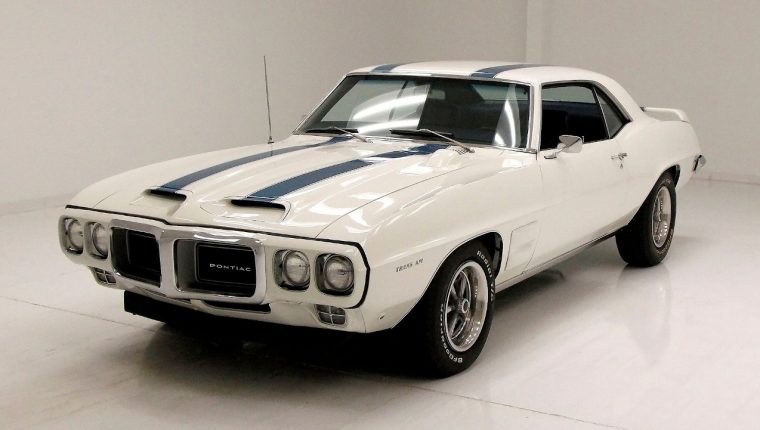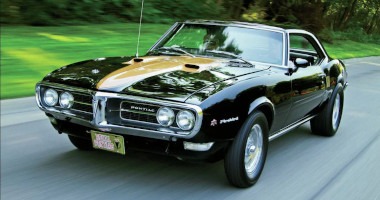 With the hugely successful launch of the Ford Mustang in mid-1964 (it had sold 418,000 in its first year), GM had to respond. Its two youth oriented divisions, Chevrolet and Pontiac, planned for a 1967 model of a small two door sports coupe and convertible. Chevy released the Camaro and Pontiac, the Firebird.
The Firebird adopted the "Coke bottle" side design that was so popular in the mid to late 1960's. It had a bumper that wrapped around the whole front grille of the car and in the back, two parallel rows of slit taillights.
Over the three years, Pontiac offered a wide variety of motors, from a 230 cubic inch (3.8L) 6 cylinder up to the L67 400 CID (6.6L) Pontiac Ram Air IV V8 at 345 hp (257 kW). A lot of power for a small car. These cars were only 189" (4.79m) long, which was short by the standards of the day, and sat a low 51.5" (1.3m) high. Interiors sported bucket seats, sports steering, sports instumentation and room for two small people in the back.
Styling changes for the 1968 model was limited to federally mandated side marker lights front and rear. The parking light wrapped around under the front bumper and a Pontiac insignia "Arrowhead" marker light was added to each rear side. Also the vent windows were deleted for a cleaner, open look.
For 1969, the front end was freshened up to have the headlights divided in two and sit outside the grille area, or rather the narrower grille now sat in between the headlights. In 1969, there was a limited edition Trans-Am package that was released. That name went on to be a mainstay of the marque. If you were lucky, you could have had one of 698 Trans Am coupes built that year. If you were extremely lucky, you could have had one of only eight Trans Am convertibles built.
Finding a good example in the USA should not be too hard. For 1967 Pontiac produced 82,560 Firebirds; for 1968; 107,112 cars and for 1969; 87,708 of the marque. There are still many worthwhile survivors. Look for ones that have lived in the drier (non-snow) states in the US south and south west to find the better rust-free examples.