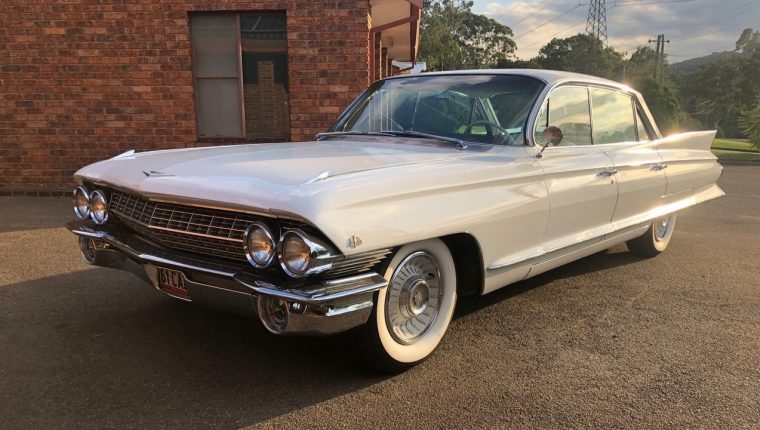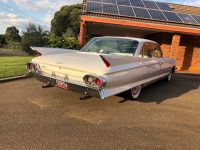 For 1961, Cadillac did a total restyle from its high flying fins of 1959/60. The updated style employed "rocket ship" styling in the rear quarters with the addition of lower "skeg" fins to give it that feeling of forward motion. It looked like it was going fast, standing still. The tail lights looked likejet plane afterburners and the upper fins looked pointy enough to take out a kidney if they reversed into you.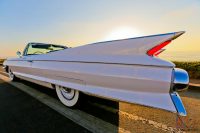 The front end continued with the rows of bullet-like projectiles in the grille, a carry-over from 1958-60 models, but for the first time the headlights sat in line with, rather than above the grille.
The interior came with a wide range of patterned fabrics and leathers, befitting "The Standard of the World." The dashboard featured modern styling with lots of chrome.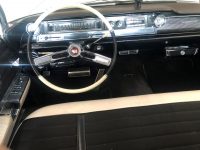 The motor was the powerful 390 cubic inch, 325 horsepower Cadillac mill carried over from 1959. Accessories included, air conditioning, power windows, power seats, cruise control, power door locks, fog lights, power deck lid release, tinted windows, Guidematic – (an automatic headlight dimmer mounted on the dashboard which dipped your headlights to low beam when it sensed oncoming traffic headlights), and many other advanced features for its time.
There are great examples and a wide variety at reasonable prices in the USA, especially in four door versions. All closed bodies were hardtops (i.e. no window frames or B pillar visible when you wound down all windows). Body styles were; convertible, 2 door coupe, four door hardtop (four window and six window), Fleetwood limousine (Series 60) and long wheelbase limousine (Series 75).